1. Mono Aluminum Phosphate Liquid Information
Mono Aluminum Phosphate another name Aluminum Dihydrogen Phosphate or high Temperature Binder.
Monoaluminum phosphate is a common phosphate binder, including colorless and transparent viscous liquid and white powder, also known as aluminum phosphate, which is a high-temperature resistant binder. Mainly used for refractories, graphite electrodes, foam ceramic filter plates, power plant furnaces, petrochemical furnaces and garbage incinerators.
Technical Standards
| | | | |
| --- | --- | --- | --- |
| Item | PA | PB | PC |
| Phosphorus pentoxide(P2O5),% | 30±1 | 33±1 | 35±1 |
| Aluminum oxide(Al203),% | 7±0.5 | 8±0.5 | 9±0.5 |
| Ferric oxide(Fe2O3),% | 0.01 | 0.01 | 0.01 |
| Relative density(25℃),% | 1.35-1.43 | 1.44-1.485 | 1.5-1.6 |
| PH value(10g/L) | 1.4-2.6 | 1.4-2.6 | 1.4-2.6 |
Passed ISO9001, ISO14001, OHSAS18001 quality system certification
2.Mono Aluminum Phosphate Liquid Application
This series of products are used in refractory amorphous materials and phosphoric acid bricks, and the finished products are used in blast furnaces, hot stoves, open hearth furnaces, steel ladle, electric furnaces, soaking furnaces for nonferrous smelting, heating furnaces, kilns, rotary kilns, glass melting furnaces, coke ovens, tunnel kiln car tables, petroleum processing and other equipment. Electric furnace, petrochemical furnace, garbage incinerator, easy mixing and molding.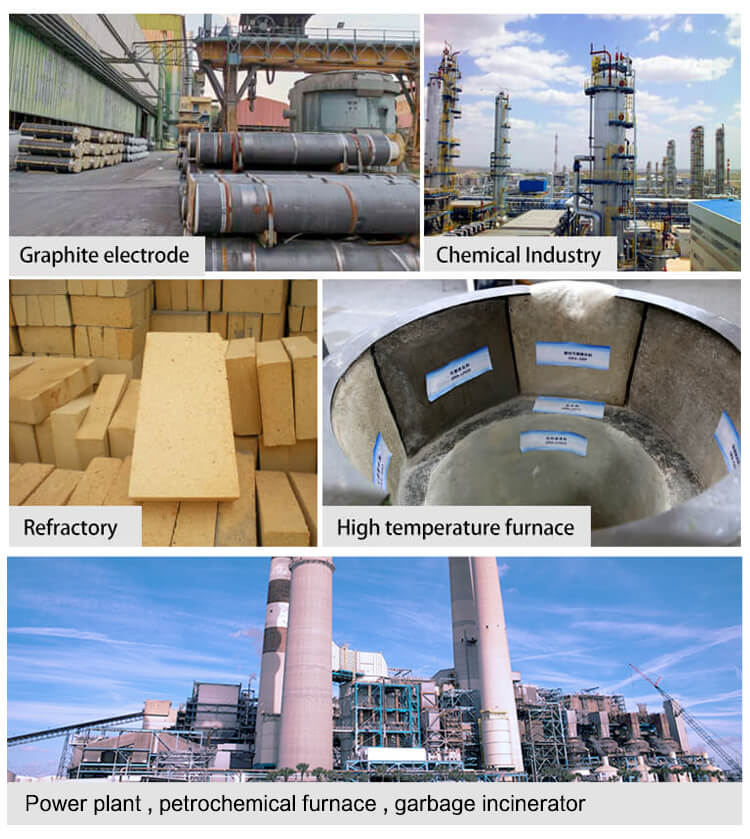 3.Mono Aluminum Phosphate Liquid Peculiarity
After being mixed with refractory aggregate, hardener, etc. at normal temperature, it is kept at a constant temperature of 90-110℃ for 4-24 hours to form high bonding strength. After being dried at 350-500℃, it has high bending resistance, compression resistance and hydration resistance, and it will not soften even after being soaked and boiled in water.
4.Mono Aluminum Phosphate Liquid Certification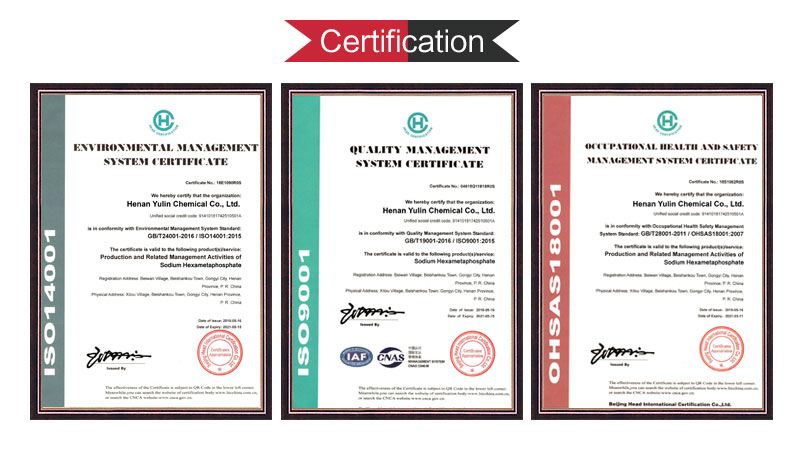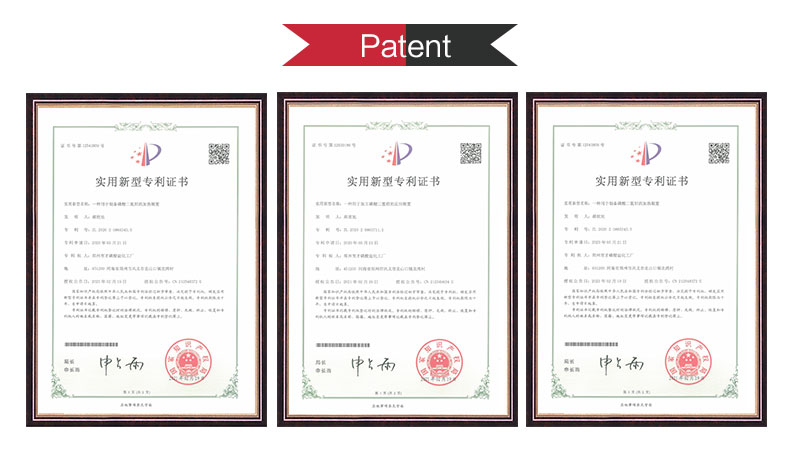 5.Mono Aluminum Phosphate Liquid Packaging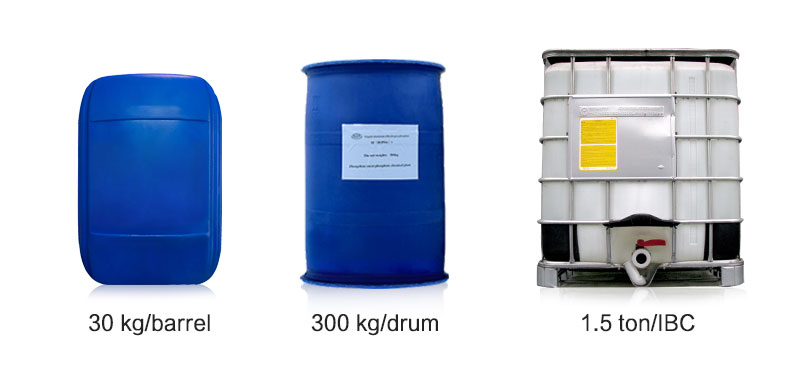 Plastic barrel packing: 30 kg square barrel, 300 kg round barrel, 1500 kg IBC tank.
6. Mono Aluminum Phosphate Liquid Storage Conditions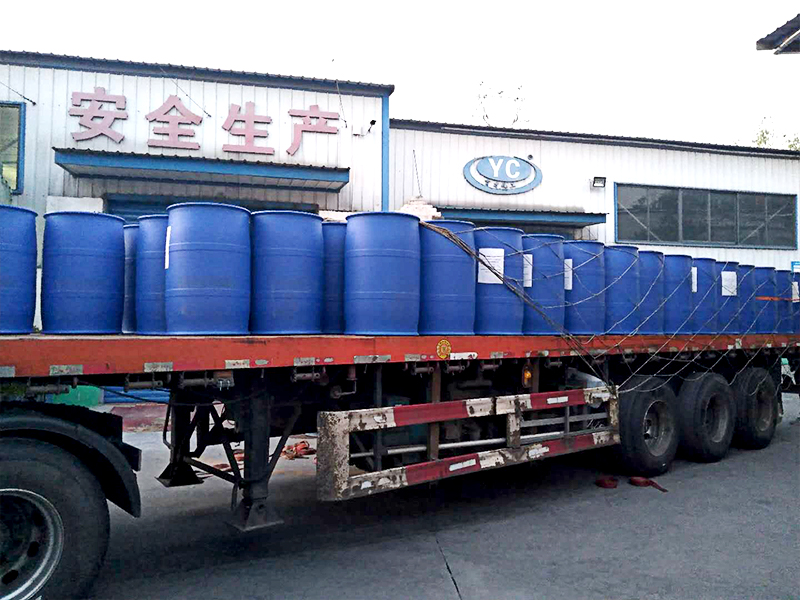 Handle with care when loading and unloading, so as to prevent collision, inversion and dripping, and prevent package damage. In case of accidental contact with skin, clean it with tap water.
7. Mono Aluminum Phosphate Liquid Exhibition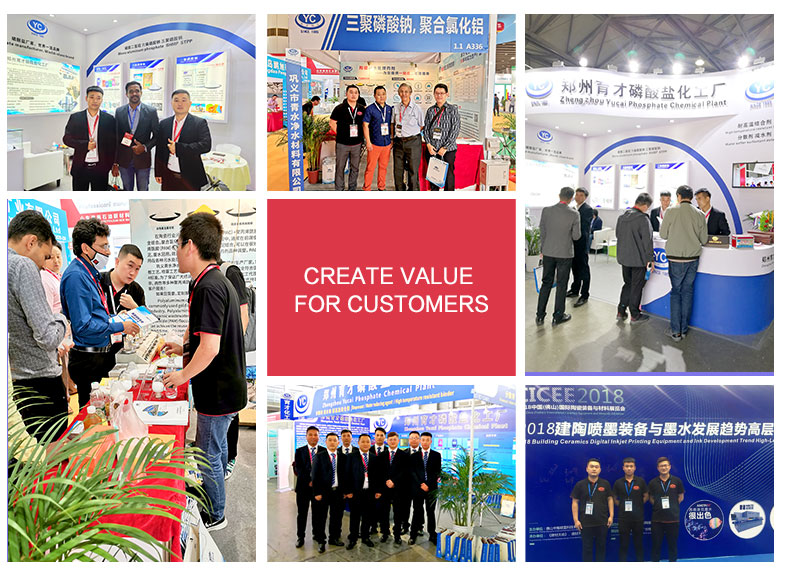 The factory was established in 1985 and the Ministry of Foreign Trade was established in 2012. So far, it has developed into a group company integrating scientific research, production, sales, international trade, export and import. In 2021, the group's sales exceeded 100 million US dollars.